Salvatore Lenzo, M.D.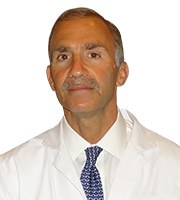 Salvatore Lenzo, M.D.
Salvatore Lenzo is Board Certified in Orthopaedic Surgery. In addition, he holds a Certificate of Add Qualification in Hand Surgery, i.e., the equivalent of board certification. He is a member of The American Academy of Orthopedic Surgeons and American Society for Surgery of the Hand. He is an Associate Professor of Orthopaedic Surgery at The NYU School of Medicine. Dr. Lenzo received his B.A. from the University of Pennsylvania. He is a graduate of New York University School of Medicine. He completed both his orthopedic surgery residency and hand surgery fellowship at the New York University Bellevue Medical Center in New York.
Dr. Lenzo is an attending physician and a member of the fellowship and residency teaching program at The Hospital for Joint Diseases NYU Medical Center. He has been named as one of New York Magazine's best doctors for the past 10 years. He has been in practice since 1987 specializing in all facets of hand surgery. These include trauma, reconstructive, pediatric, hand and wrist and microsurgery. In conjunction with his teaching responsibilities, Dr. Lenzo is published in the field of hand surgery and also has a patent on surgical instrumentation design.
Practice Information:
Our state of the art office is located at 955 Fifth Avenue in Manhattan, between 76th and 77th street. Dr. Lenzo sees patients on Tuesday, Thursday and Friday from 9:00am to 5:00pm. Dr. Lenzo performs surgery on Monday and Wednesday. To schedule an appointment, you can reach our office at (212) 734-9949. Our fee schedule is based on profession and community standards. For your convenience, our Billing Department can submit claims directly to your insurance company. Most major medical insurance plans are accepted. We accept Visa, MasterCard and American Express as well as personal checks.
General Statement:
Many disabling conditions of the hand and wrist can be improved with surgery. This can often produce a dramatic augmentation in the quality of life or productivity. Conditions such as rheumatoid arthritis, degenerative and/or post traumatic arthritis can be relieved by advanced reconstructive surgeries. Advanced methods of nerve decompression surgery are also practiced. Pediatric congenital deformities are also addressed. Arthroscopic diagnosis and treatment of difficult intraarticular pathology are frequently performed when indicated. This less invasive technique is one of the many advances currently used by Dr. Lenzo to assist the patients returning to their maximal functional level.
In addition to Dr. Lenzo, his practice also includes a physician's assistant who helps in treatment of care of his patients as well as an occupational therapist on the premises who can make custom made splints for the patients as well as helping them with therapy either after an injury or subsequent to a surgical procedure in an effort to regain maximal functional benefit from the doctor's treatment.